This summer, the Associazione Culturale Fanes (Fanes Cultural Society) organized a successful sequence of events on the Fnes' theme. The events took place at several sites related to the ancient legend and included, among others, an art exhibition, showing the movie "Le Rëgn de Fanes" and a few scenes in costumes. The full list of events can be consulted here. On August, 7th I held a lecture at the evening at La Villa; two days later, together with my friend Norbert Spina, I also contributed with a lecture at San Vigilio di Marebbe. In that occasion, we both have been conferred the star "Regni Fanis Ordo", reproduced aside. My best thanks go to the Lia Fanes for their nice and warm welcome.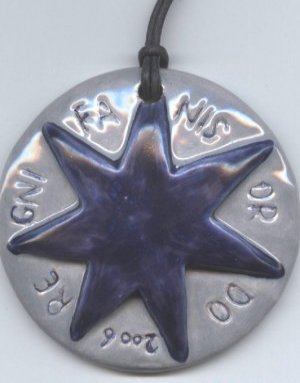 In the afternoon of the same August, 9th we took part to a walk on the "Legends' Pathway" in the surroundings of San Vigilio, enriched by several characters in costumes and with Iaco Frontull's charming explanations. The walk was attended by a lot of vacationers and raised adults' interest as well as childrens' amusement.
I'm enclosing a few snapshots.
Click on the images to enlarge (return with backspace; for maximum enlargement, click on the box appearing at lower right after a while)